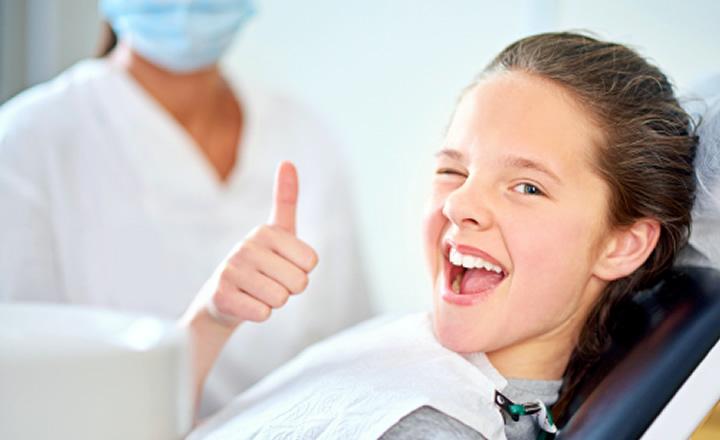 Healthy young teeth is an investment towards good health for life.
At Me Dental Care, we will take care of your children teeth from the very start! We believe that oral health education should begin at a young age. Good oral health routine developed during childhood can last well into adulthood. Those positive habits can motivate them in caring for their teeth and mouth and establish a positive attitude towards their dental health later in their life.
We strive to create an environment in which children can be relaxed and enjoy their visit to our clinic. Our caring and friendly dentists can manage a full range of dentistry services for your child. We are the team of dentist who understand children. We take an sympathetic and gentle approach to your children and we ensure to explain every part of the procedure before we commence.
1. When should my child first see the dentist?
Children dentistry isn't just about teeth. Please do not wait until your kid has a full set of teeth to see the dentist. Children dentistry is about gums, lips, the inside of the mouth and oral hygiene practice as well as early dental prevention plan for children.
There is no strict rule as to when you should take your child to a dentist. However the earlier your child visits the dentist the better. Prevention is better than cure and early dental visits will help protect and prevent your child from developing oral diseases.
2. What happen at my baby's first dental visit
At Me Dental Care, we ensure every dental experience for your child are always fun and joyful. It is important to get your child be familiar with dental environment from an early age. Children who have regular preventative check up are less likely to develop any dental related problems that may affect their oral / general health and may be costly to address when they're older. They are also less likely to develop dental phobia.
During your child's first visit, our dentists:
Perform a comprehensive exam of their mouth (outside and inside) – We want to ensure that their surrounding jaw structure, bite, cheeks, gums and teeth are healthy and normal
Assess negative dental habits such as thumb sucking
Conduct a diet analysis
Discuss nutritional advices
Identify your child's risk of decay and how to prevent it
Do a polish / clean
Apply fluoride treatment for the prevention of dental decayed
Advise oral hygiene for you and your child on how to care for the teeth at home
Our dentist always has your child's best interests at heart and want to make sure your child can develop a good oral hygiene habits at early age so that they can achieve a good oral and general health later in their life.
What if my child is very nervous about going to the dentist?
It is worth remember that children sense fear in their parents. So it is important NOT to let your child feel that a visit to the dentist is something to be worried about.
Try to be as supportive as possible
If you have a dental phobia, don't let your child hear you talk about them
Regular dental visits are essential in helping your child get used to the dental clinic's surroundings.
Remember, the earlier these visit start, the more relaxed the children will be
If your child is in pain i.e toothache and present it at dental clinic for an emergency. Please stay calm because the more your panic, the more anxious and distress the child will become.
Are you looking for Dentistry Services for your Child? Me Dental Care is open 6 days a week. Please contact our Patient Co-ordinator to book an appointment, or call (03) 8538-6199 during business hours